New Hairstyles for Men's Hair Systems
The best popular men's hairstyles trending this year for men's hair systems are classic look men's styles and haircuts with all hair lengths, from short to long. All these hairstyles for men relate to high quality undetectable front of the human hair system, toupee, or hairpiece. Indeed, the big hairstyling statement for men is the faded look and brushed-back haircut are by far the most popular men's hairstyles. 
Fade haircut of super tight taper short cut on sides and back that fades up, and changes to longer hair on top

Top of hair can be messy textured or Pompadour hairstyle

High Fade Haircut with close to the skin razor cut up to the forehead line 

Classic Mid-Fade hairstyle is similar to the above haircut but starts the fade lower at the ear level

Layered undercut – popular hairstyle for men including hair systems

High Pompadour brushed-up hairstyle

Slick Back long hair or textured top is back from the 1950s

Comb Over side part is perfect hairstyle for hair systems

Shoulder length natural curls and wavy hair are back in style

New trend is the beard
Great Hairstyles for Hair Systems 
Great Haircuts & Styles for Men's Hair System; Are you looking to freshen up your hair replacement system look with a stylish haircut? What are the best haircuts and styles for men's hair system this year?
Here are the latest unconventional, positively eccentric, and a bit flirty men's hairstyles in the coming years. Men's best hairstyles include super short, mid-length, and long shoulder-length hairstyles. Try one of these attractive haircuts with super short sides, long hair on top, tousled, and fringes. The new trends in mid-length hairstyles look for thick hair density but have soft fades and movements. 
This year the no-fuss, healthy, well-kept head of hair looks fashionable. Get inspired and bring the youth back with the best hairstyles for men's hair systems. Young, fresh, and never-care highlight the best trend in hair design.
Long hair is all about loose curls or waves, tousled, and looks effortless shoulder-length hairstyles. The new hairstyle's look embraces nature as if not much styling to the hair. After all, find the haircut and style that best fits your lifestyle when it comes to hairstyles for men's hair systems.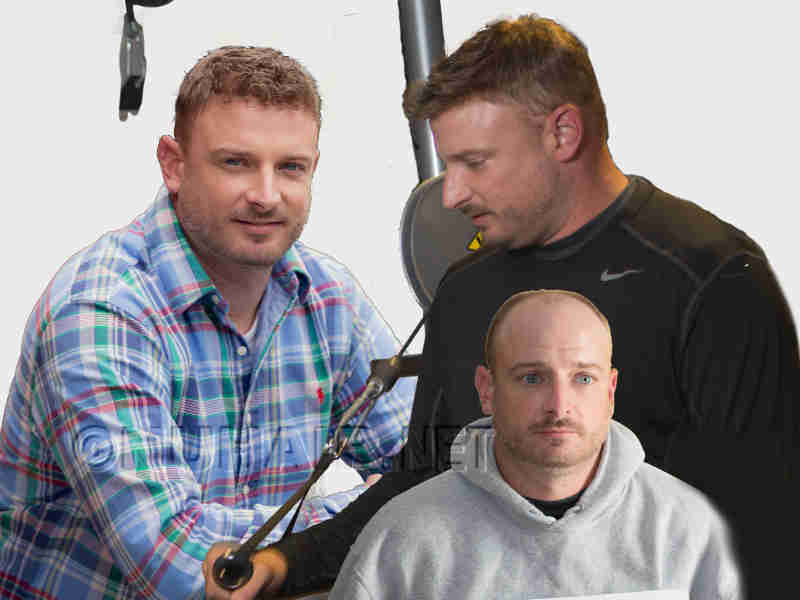 *Photos are our Transitions members' & Nu Hair of Texas hair restoration results for hair loss, nonsurgical hair replacement, wigs, and MEp90 laser hair growth therapy. Real Clients. Real Results. 
Nu Hair Systems
Get Your Fade Style for Men's Hair System. With your Nu Hair replacement, hairstyling with today's trend is possible.
Nu Hair's great hair systems fit better, perfect natural effect. Our custom hair systems with the lifted hair direction make it possible to comb the hair in any direction. You choose right, left, or hair combed back. And hairstyles are limited only by your choice. 
Lace Hair Systems

Skin Hair Systems

Short Hair Length

Long Hair Length

Part Hairstyle

Brush Back hairstyle
You can try one of these winning modern hairstyles with our new exclusive Nu Hair replacements. Fade high, medium & low haircuts are in fashion—short sides with long hair on top haircuts. Stylish hair systems with great hairstyles offer men the confidence to take on the world.
Regarding men's haircuts, we are keen on Fade haircuts going strong with the volume on top, backcombed high Pompadour, or not too polished spiky high tops. Trendy, fashionable hairstyles for men highlight the individual's unique look and personality, hair type, and face shape.
Texas Best Hairstyles for Men's Hair Systems
Best Hairstyles for Men's Hair Systems Dallas-DFW; We find that contemporary new hairdos for men emphasize the image of casual elegance, sophisticated and sporty, and a boyish flair for looking masculine. Looking for short and shaved sides is the optimum new look. This hairstyle is a reminder of being young again and playful leisure time in today's hectic world. Nu Hair of Texas offers the best hair systems you can wear daily with a more youthful and refreshing look.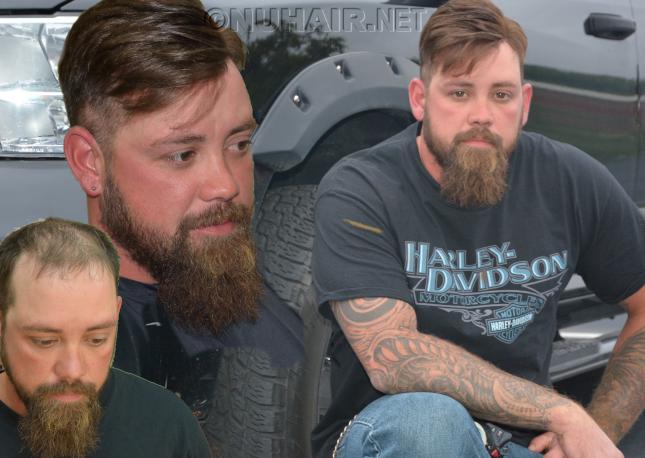 Fade-Pompadour Haircut
Contrasting is in styling a short buzz haircut on the sides and back against full long hair on top. The hairstylist cuts part of your hair very close to the scalp. Then the length is increased as the haircut moves up.
In a mid-fade, the hair length changes gradually from the top of the ear line. Or in noticeable sharp steps leaving all the long hair at the top in a high fade hairstyle. There is longer hair around the top of the head and short trimmed hair at the neck with electric clippers or razors. If you have soft and straight hair, a slick back fade is undoubtedly the best choice!  
Texture Hairstyle For Men's Hair Systems
How To Style a Textured Hairdo? Style your men's hair replacement and take a relaxed look with a textured pompadour top hairstyle. Disarrange up your curls into a messy schoolboy look. Indeed, managing your unruly locks won't be an issue anymore with naturally wavy hair. Tousle your hair on the top for a perfect "just got of bed" look. Or, instead, add a deep side part for a more chic hip feel to your hair—just a new twist to the hairdo of men's hair replacement. 
Color highlights are hot trends this year. Add lighter color to your top hair. The unconventional men's hair color ideas often look attractive with faded-out of natural tones. Add a pop of silver-gray stripe for a funky look, and a touch of brightness to back-slicked hair ends. Try a temporary hair color spray. Use the best hair products for your hair system.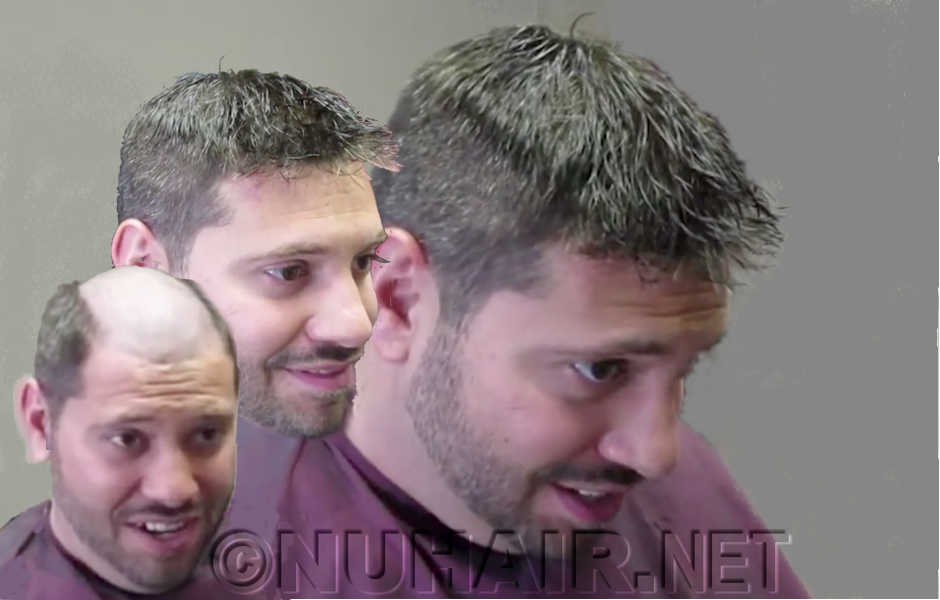 Best Hairstyling Products
What Are The Best Hairstyling Products For Your Hair System? The distinctive fade haircut, this longer cut top, and modern pompadour look require volume on top.
You are creating this bravura by starting with wet hair—first, prep your damp hair with a hair gel. Apply a mousse throughout like Transitions Foaming Mousse Styler for control, but light enough to not weigh the hair down and still give texture. Or use Transitions Styling Gel. It's lightweight, delivers long-lasting styles, and is ideal for blow-drying or wet hairstyling. It is also alcohol-free and botanically enriched.
Blow out hair, keeping the hair fluffy with a brush to look slick or textured. Brush the hair back away from the face, gently dry from the front, then work through the hair to solidify. For volume, use a vent brush to lift the roots. Use your fingers as a comb to lift from beneath. Then lightly use oil spray for the slick wet look. Try Nu Hair replacement to get the most out of the new trendy hairstyles for men.
Create your style
Today color highlights are hot new style for men's hair system. Add lighter color to your top hair. The unconventional men's hair color ideas often look attractive with faded-out of natural tones.
Supplement your hair with the necessary nutrients required for healthy hair growth. Dehydrated hair has an aged appearance. Prevent hair from aging look by keeping it healthy and shiny. Try MEP90 laser therapy to halt your hair loss and regrow and revitalize your hair to its wholesome youthful look.
The best hair systems are at Nu Hair in Dallas, Texas. Look at our clients' photos for new ideas about haircuts and men's hair systems styles. Now you can choose any hairstyle or cut that's a perfect fit for you. You no longer need to hide your thinning hair because you're in style with truly gorgeous hair. Like our clients' hair restoration in the photos, we can make you look and feel like you never lost your hair.
Nu Hair of Texas center is in North Dallas, just off Preston Rd and 635 Freeway, close to Addison, and minutes away from Allen, Arlington, Frisco, Garland, McKinney, Richardson, Plano, Texas area. Our central location is only 30 minutes drive from Southlake & Fort Worth. Discover easy ways to get your beautiful hair back and tips to optimize your hairstyle.