Texas best wigs for hair loss, shop for best wigs, beautiful human hair & synthetic hair wigs & top-rated natural-look hairpieces for men and women's hair loss. Nu Hair Texas is the ultimate hair wig salon in Dallas DFW offers the best human hair wigs & expert hairstylists in Dallas. 
Shop Wigs Beautiful Hair For Alopecia in Dallas, TX
Best Wigs For Your Hair Loss
Indeed, there is a vast array of wigs: custom, readymade, human hair, and as medical prosthesis. Shop for the finest wigs and unique nonsurgical hair replacements to cover any level of hair loss in Dallas & Fort Worth, Texas. Nu Hair experts offer a guide to buying premium wigs and hairpieces. 
Buy 

with a realistic natural scalp appearance, a most desirable in hair addition.

The best hair

 is human hair.

Custom design

 – Natural front hairline.

Good hairpieces

 are invisible transparent front lace. 

Cap choice

 – Get one that will fit your scalp correctly.

Choose a hair addition that is breathable and easy to wear.

A total cap is necessary for chemotherapy since, most likely, all your hair will fall out.

Cost

 – Buy premium hair that you can afford. 

Styling

 

– Start with a simple style. It will be easier to maintain. 

What products

 and how do to keep your wig clean & beautiful?
Lace Front, Human Hair & Synthetic Wigs
How To Choose?
People facing hair loss from cancer treatments may choose to cover and disguise their hair loss. Individuals should consider the pros and cons of each type of hair addition before purchasing. Most types of wigs come in almost any color and style.
If you face hair loss due to chemo treatments, keep a swatch of hair before starting treatments, and your hair falls out.
Private health insurance may cover wigs as a prosthesis for people undergoing cancer treatment or who suffer from alopecia areata, a medical condition. Ask your doctor for a prescription for a cranial or hair prosthesis (not a wig), as insurance companies may cover some of the costs.
Some organizations offer free or low-cost prostheses to people currently undergoing cancer treatment.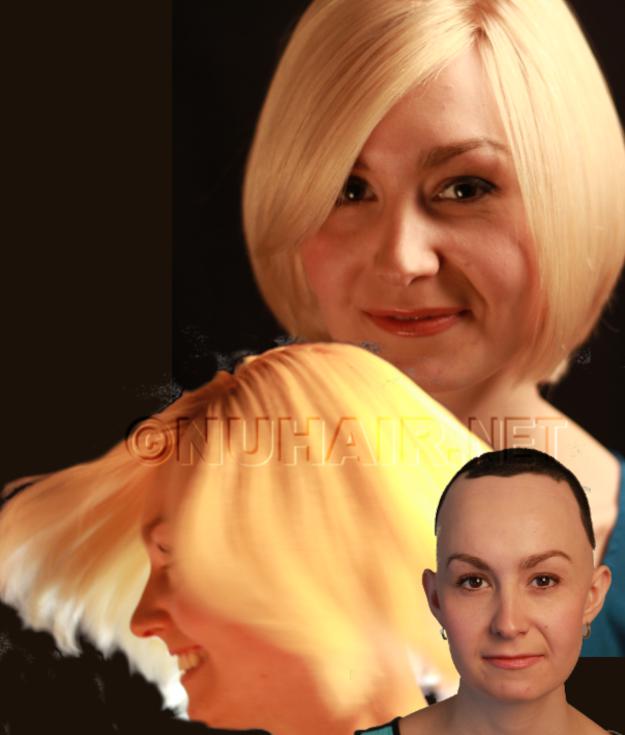 Real hair. Real people. 972-490-7766
Readymade Or Custom
What type of hair addition should I get for hair loss: human hair, synthetic hair, or hair replacement system? Custom human hair or readymade? All differ in cost based on quality and hair type. Both synthetic and human hair addition should match your hair color and style works with your face. 
Machine-made seldom look natural. Hand-tied with human hair, look more like your natural hair. You can part and style the hair in different directions using custom human hair. Indeed, these custom-made ones are more expensive. 
Custom order takes 6-8 weeks to fill. In most cases, a 50% deposit is required for your first consultation and measurement session to begin creating your order. The hair replacement specialist will measure your head and cut a small hair sample. He will take notes of your hair color, texture, necessary measurements, scalp design, and any additional information to produce the wig.
The hair should be natural-looking stylish, and soft feel. All our hair additions are hand-tied for the most natural look paired with ultimate styling versatility. Do expect to pay more for hand-tied and custom-made wigs than machine-made ones.
Cap
Choice of wig cap types lace, poly, etc. What wig base or cape type should you get? There are several types of base construction, each with various benefits.
The lace front 

cap features a front lace hairline.

A full lace wig

 is a full cap made entirely with French or Swiss lace material with the most comfort, airy and cool.

A monofilament cap

 is a nylon or polyester fiber of a soft mesh. It is warmer on the scalp than lace.

Hand-tied 

type refers to the hand tie venting process of the hair strands onto the base. Hair inserted with hand-tied knots are more desirable and natural-looking, but costs are much higher.

Machine-made

 pieces use wefts of hair strips sewn to a cap. These are available in stores at a low cost.
Our experience Dallas specialist will help you with the vast array of choices. Lace front or monofilament hair additions work for different people's needs. A lace front is perfect for a realistic-looking hairline.
Monofilament is a light, sheer skin color to show through the scalp for a natural-looking hairline. An entire lace cap and base are the most comfortable to wear. It is lightweight, cool, and airy on your scalp.
Also, lace shows the skin through the lace, a desirable feature. After all, every wig base has unique features to suit individualized needs. Choose the correct cap size that fits your head and will stay securely in place. For chemo patients, preference is an adjustable wig to adjust for progressing hair falling out.
About Wigs
Per Webster's dictionary, the word wig is "manufactured covering of hair for the head." We often misuse the word wig to describe modern hair additions. Most are pre-manufactured, inexpensive, and readily available at various retail wig locations. Hence, many people try off-the-shelf wigs as a substitute for hair loss for financial reasons or easy availability. 
Wigs By Category:
Lace front wigs

African American wigs

Custom wigs

Readymade wigs
Wig's Hair
Human and synthetic hair come in short, medium, and long lengths but cost more. Choose the type of hair wave, from tight curly hair to slightly wavy hair to straight hair. 
You can get human or synthetic hair. 

A combination of human and synthetic is used, at times, with gray hair. The gray doesn't catch color.

Human hair is easy to style, cut, and color. However, human hair requires more maintenance than synthetic hair.

Synthetic hair is easy to handle, but you cannot change style or color. Since it is a nylon material, hair freezes quickly. Avoid heat if possible. Also, synthetic hair wigs don't move like natural hair.

Synthetic wigs last for up to 5 months of daily use.

The synthetic hairpiece should be steamed by a professional once every couple of months to keep them looking good.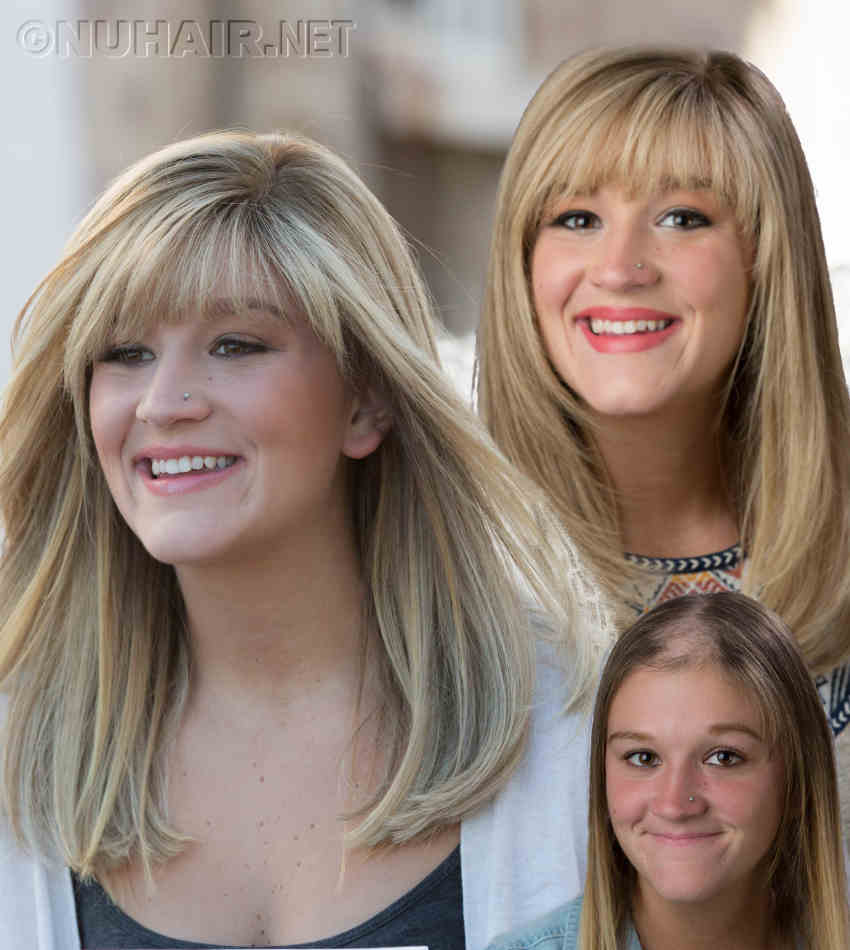 Real hair. Real clients. 972-490-7766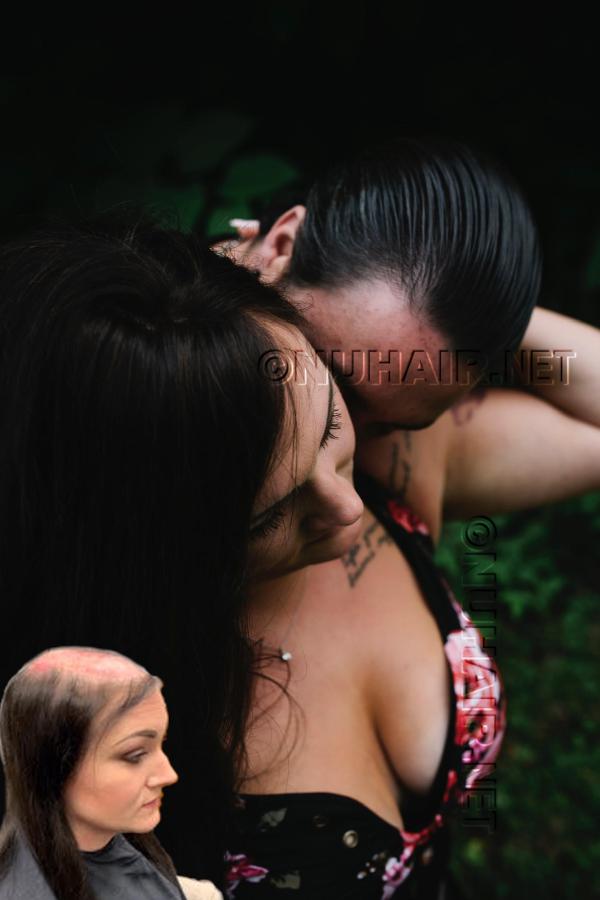 Price
Human hair will be more expensive than synthetic hair.

However, premium synthetic wigs price at the high end of wigs cost.

Human hair wigs average cost between $1500 and $6000.

On average synthetic wigs readymade cost between $200 to $600

Synthetic hairpiece and hair system topper starts at $200 and up.

More expensive wigs are more likely to be of higher quality. 
Best Wigs Care
Only use products made for wigs.

Wash the wigs every 10–14 days.

Follow the manufacturer's instructions when washing the wig.
How to choose the best hair extensions?
Get your hair at Nu Hair of Texas.
Get results that look entirely natural and are virtually undetectable. Women and men needing a hair addition due to hair loss choose Nu Hair of Texas for their hair restoration.
Our North Dallas wig boutique is none like other off-the-street wig stores. We guide you in selecting the hair and sound design from the top manufacturers for your needs. Moreover, the wigs are brought in specifically for the individual's needs. The Dallas hair restoration center has won the hearts of many men and women needing hair loss solutions.
"If you suffer from any alopecia or thinning hair. Go to Nu Hair boutique. You won't regret it." 

Katie

"Our experience at Nu Hair of Texas was great! We were on a mission to find at least one hair replacement company in the DFW area that would take measurements and cut & style a wig for my six-year-old daughter… Marvin and his wonderful staff exceeded all of our expectations! Marvin showed genuine care for our situation, and to six-year-old parents who were going through a hard time, that meant a lot!" 

Stephanie

"I found Nu Hair in Dallas using Google and decided to try it out based on the extensive information. It's so easy to talk with Marvin. He did my hair EXACTLY how I asked for!" 

Coco
Real Clients. Real Results.
Beautiful hair for your hair loss
REALLUSIONS® Hair
Reallusions hair wigs are of the highest quality European hair. The hair's cuticle is left intact to provide lasting color. A thin base offers a light feather-light weight for our custom wigs. The hair was implanted into the unit's base using a unique technique involving a natural angle growth pattern, which gives hair buoyancy and movement.
Also, the result is a natural appearance and realism in wet and dry conditions. These wigs are very comfortable, easy to care for, and durable. 
Short hair to shoulder length hair wigs

Wig of 100% human hair

Single hair graft

Natural front hairline

Most realistic natural appearance

Design for a comfortable fit

Form-fitting design with style
With Nu Hair replacement or wig, you feel healthier, more active, and more connected to life.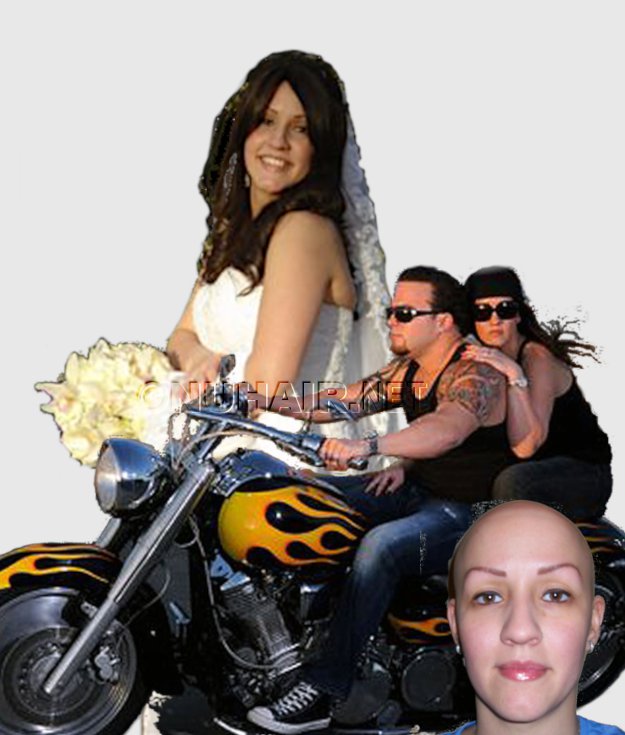 A better way to hair restoration
Before & After Photos
These hair restoration results of before and after photos are of our Transitions Group and Nu Hair of Texas actual patients.
Are you looking to restore your hair? Treat your hair loss with nonsurgical hair restoration solutions designed to replace hair loss with ease. Nu Hair of Texas is Dallas-DFW's best hair loss treatment specialist, offering hair restoration treatment in Dallas-DFW since 1986.
Nu Hair of Texas is a hair loss (alopecia) treatment center in Dallas-DFW. Nu Hair of Texas boutique is located in North Dallas, just off 635 FWY and Preston Rd. We are proud to be one of the USA's oldest companies, offering hair replacement solutions with the highest quality and service rating. Get the best hair restoration treatments:
Medical laser hair growth therapy

Nonsurgical hair replacement systems and hairpieces
Discover easy ways to get your beautiful hair back and tips to optimize your hairstyle. To schedule your private no-obligation and "no pressure" consultation, use the CONTACT form with any questions or concerns.
By Appointment Only.